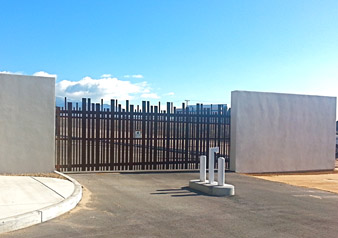 Dec 2, 2013 –
These unique commercial gate systems are rich with architectural detail and character unusual for a police station. These are ground track gates which are challenging to install but necessary because of the room needed for a cantilever gate. Cantilever gates are a superior type of gate for a commercial installation.
An architect created the visual design but left the actual operational details to us to figure out. Few companies have the skill set to transform unique design into a well-functioning automatic gate work. Gate-It engineered the actual construction using a 2''x4'' frame and varying sizes of flat strips of 3/16'' steel as the in fill. The customer chose a natural rust finish everything that gives the gate an industrial look and also blends with the rest of the building. The gates are power with Hy-security's new chain drive dc gate operators.
One of these gates was a real challenge because we had to design a way to slide one of the gates through a wall an on to suspended track system. worked great!